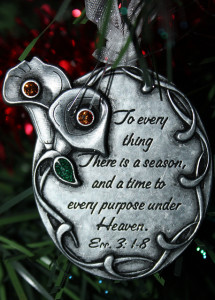 Ecclesiastes 3:1 ~ There is a time for everything, and a season for every activity under the heavens.
Christ was born so that none of us would have to experience the seasons of life alone, whether they are joyous or seasons of sorrow. Just as we have seasons of the year, there are seasons in life. There are times when God calls you to do something for only a period of time. Well, at this time I believe God is calling me into a new season. I therefore will be putting an indefinite hold on writing the weekly devotionals, as I seek God's guidance for the next steps He has planned for me in this new season.
Many of you have written to me or told me how much the devotionals have spoken to you, and I am truly thankful for that. Being able to share and express what God was putting on my heart has been a blessing. I pray that through my writings that you too have been encouraged to share God's goodness in your life with others.
I don't believe He is threw with me and it is my prayer that God will reveal to me new ways to share His goodness with others. So as I take time to be still and hear God's voice for directions in this new season, know that I am always praying for each of you. I wish you all a joyous and merry Christmas and a New Year overflowing in blessings.
Prayer: Lord, I thank you for the opportunity to share Your word with others through this weekly devotional. I pray that each and every reader was blessed in a special way. Amen.
Purpose in Action: What is God revealing to you in this season of life? Are you trying to hold on to something that God is moving you away from? Spend time in prayer allowing God to answer those questions for you.
For His Purpose,
LiKeisha